In case you didn't know this about me yet, I love to read. Fiction is my favorite, though I've been known to enjoy some good theology non-fiction as well. And in God's goodwill and favor, he blessed me with a job that, oh yes, pays me to read. Go figure. (My mom still can't get over that one.)
Of course, reading must be followed by writing the review, so I do have to think about what I've read. I'm not allowed to let the fluff disappear while I mull over the meaty parts. But that's OK with me. Since I began reviewing books for
crosswalk.com
and
thefish.com
(sister sites on the Salem Web Network), I've been exposed to many books I would never have picked up on my own.
Previous blog posts will lead you to those reviews. But today, I just want to celebrate the most recent review. I had to negotiate with my editor to get this book on my list because our schedules weren't matching up. But I have loved Kristin Billerbeck novels since I discovered Ashley Stockingdale in
What A Girl Wants
. Busting out in laughter, the literal LOL, is always a good sign that I've found a winner.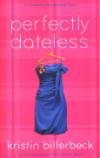 Billerbeck is back, this time dipping into the teen market with
Perfectly Dateless.
As I'm far past adolescence, I wondered how much I'd enjoy a teen book. But since it's Billerbeck, I need not have feared. It's as funny and real and insightful as the rest of her collection. I've never put much stock in the whole channeling thing, but if it does exist, then Billerbeck has figured out how to channel a 17-year-old. Hilarious!
So take a look at my official review
here
, and if funny, well-written chick lit is your thing, grab a copy for yourself.